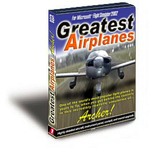 Notice:
Please read our FS2004 (FS9)
Limited Support Notice
before purchasing this product.
Flight One Software and Dreamfleet are pleased to announce that the update for using their Piper Archer in FS2004 is now included in the main download. The 2004 update is also available as a small single download for those already with the Archer.
Along with other enhancements, the Update adds the new FS2004 GPS 500 to the aircraft.
Complete details and the update download can be found at the DreamFleet web site.
FS2004 Archer Upgrade
Greatest Airplanes: Archer! By DreamFleet and Flight1
One of the most popular general aviation aircraft in the world, the Piper Archer II is idealy suited for Microsoft Flight Simulator 2002 / 2004. This is not just any Archer, but perhaps the most famous Archer in the flight simulation world: N8439T, a 1982 Archer II, and the personal aircraft of Nels Anderson, web master of
FlightSim.com
, the world's largest flight simulation web site.
Four different aircraft configurations: Each showing a different pilot / passenger configuration. You will have a choice of pilot-only, pilot and front seat passenger. Pilot, front seat passenger and one rear seat passenger, or pilot and front seat passenger, plus two rear seat passengers. Weights for all, plus baggage can be set using "Config-O-matic".
Virtual Cockpit & Cabin: Nicely detailed and with working gauges, and moving throttles, control wheels, etc. You can fly from the virtual cockpit, or from our complete 2D cockpit and interior (see below).
Complete Moving Parts: Ailerons, rudder, stabilator, rudder, and flaps all move. Gear struts compress upon landing, and both cabin door and baggage door open and close.
Removable Engine Cowling: That's right, with just a press on a key, you can remove the engine cowling and see the 180 hp Lycoming 0-360 engine that lives inside.
Visible Interior and Passengers: This, of course, should be expected, and the interior visible from the outside of the aircraft is highly detailed, and includes passengers in the seats (see below for more information about our passengers).
Fuselage and Lighting Reflections: The same as found on the default FS2002 aircraft, there's even reflection on the aircraft windows.
Even More Details!: From tie down eyelets, to door hinges, to even some of the screws are 3D. You'll even see the moving control arm that actuates the stabilator, the "petcock" valves used to drain fuel, and an authentic Piper pitot tube under the left wing.
2D Cockpit, Instrument Panels & Interior
In addition to the 3D virtual cockpit and interior, the DreamFleet Archer II features complete 2D instrument panels and interior views, in our "trademark" high resolution, digital photo realistic graphics. Use the "VC" or use the 2D views, or switch between both. Some of the features of our 2D interior include:
Main Instrument Panel: So realistic that you could almost swear you were in the real thing. Every gauge is there, just as it is in the real Archer, and operate as accurately as is possible within FS2002. Many gauges features a user selectable "digital readout", which tells you what the gauge is reading; great for those with small monitors, or to obtain high accuracy in setting. In addition, you can also select to place a "cover" over a gauge, so you can practice partial panel IFR. Of course the instrument panels feature near 100% accurate pilot's perspective. As with every DreamFleet panel yo are seated in the pilot's seat, not in between the seats!
Landing View Panel: Essentially a reduced height version of the Main Instrument Panel, with a larger outside view for making landings easier, or for enjoying the scenery. The landing view panel features all of the primary flight and navigation instruments, and is suitable for IFR work.
Radio Stack: An authentic Bendix-King radio stack is featured, and its operation is highly accurate in respect to how the real avionics operate. It features and Audio Panel, (2) NAV/COMs, ADF, DME, and a choice of two autopilots; either the real Archer's single-axis Century 21 unit, or the default FS2002 two-axis Bendix-King unit, which will add altitude hold and Glide Slope tracking abilities.
Interior Views: They are all here, and you can use these in place of, or to supplement the Virtual Cockpit views. Featured are Forward Left, Left (with visible wing), Rear Left, Rear, Rear Right, Right (with visible wing), Forward Right, and Up views. As with the instrument panel all views are high quality, digital photo realistic graphics. No rendered or hand drawn artwork here!
Authentic Lycoming O-360 engine sounds are featured. You will also get all of the usual switch "clicks", gyro sounds, fuel pump sound, and the unmistakable "click" of the "Johnson Bar" flap lever, as the Archer has manually operated flaps! An audible environment that along with the visual surroundings truly give you the feeling of "being there".
Text-o-Matic: The ever popular "T-o-M" returns to the Archer II, from its first appearance in our 737. With T-o-M you can repaint your Archer II in any scheme you would like, or download paint schemes produced by others. Then use T-o-M to create an entirely new aircraft model, that sports this new paint scheme, and aircraft complete with all the features listed above.. By using T-o-M you can create an entire fleet of Archers!
Congfig-o-Matic: Joining "T-o-M" is "C-o-M". With Config-o-Matic you will be able to select certain features for your Archer, such as type of autopilot, or whether or not you wish to load the 2D interior views to supplement the Virtual Cockpit. You will also be able to set the various weights for your passengers and baggage, change the color of the cockpit's dome light, adjust the airframe hours on the tachometer, and assign certain custom keyboard commands, in order to access features not provided for via default keys in FS2002.
Pilot's Manual (Available by download from www.dreamfleet2000.com): Complete with operating instructions for the Archer, performance and weight and balance charts, checklists, plus much, much more; very similar to the manual that comes with the real aircraft.
The download is available from the links below. Please note that download times may be slower during peak hours during the initial release period. After you download and run the main file, a purchase interface will be presented. The download below is for both FS2002 and FS2004.

Download the Archer here!
(21 MB - For FS2004 and 2002. Includes all updates).
Original Archer Service Pack 1
- This update is not required if you downloaded this software
after
May 26, 2002, or if the exe wrapper screen designates the version as "ESD Release 2" or later. This update is not required for the CD ROM release.

Archer Service Pack 1
If your browser does not accept the download, then your security settings are set too high.
USD - $ 19.95

Product Gallery

Click image. Use arrows or mouse wheel to scroll.